Tesla Model S
An evolution in automobile engineering
Tesla's advanced electric powertrain delivers exhilarating performance. Unlike a petrol internal combustion engine with hundreds of moving parts, Tesla electric motors have only one moving piece: the rotor. As a result, Model S acceleration is instantaneous, silent and smooth. Step on the accelerator and in as little as 3.1 seconds Model S is travelling 100 kms per hour, without hesitation, and without a drop of petrol. The Model S is an evolution in automobile engineering.
Inspired by an endurance athlete
Tesla's design and engineering teams have gone to extraordinary lengths to ensure that air flows smoothly above, around and below Model S to reduce drag, which in turn maximizes battery range. The smart air suspension lowers the car's height at highway speeds to reduce its frontal area. Electronically controlled vents stay closed until sensors detect that cooling is necessary. The front bumper routes air uninterrupted beneath the battery's flat skidplate and past the rear diffuser. The result is a five seat sedan with the stance of a coupe and supercar aerodynamics.



Zero profile door handles
Model S door handles are a work of art. When a key is in close proximity, they automatically extend. When no longer in use, they retract into the body of the car, creating a seamless surface for air to pass over.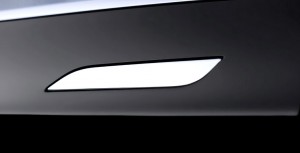 Hidden in plain sight
Scan the streamlined body panels and you'll discover that Model S lacks a fuel door. Approach the passenger's side taillight with a charging connector and the hidden charge port automatically opens. The charging connector cannot be removed until Model S is unlocked.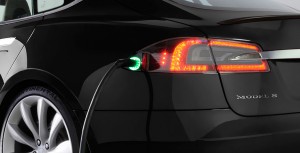 Exquisite materials
Every surface, seam, and stitch is a carefully considered balance between tactile, visual, and environmental friendliness. Door handles are made from hand polished zinc, the leather trim uses premium Nappa leather, and décor pieces are minimally finished to preserve their natural beauty. Materials are sourced as close to our California factory as possible to reduce the environmental impact of transporting them long distances.



The touchscreen
The Model S 17 inch touchscreen controls most of the car's functions. Opening the all glass panoramic roof, customising the automatic climate control, and changing the radio station all happen with a swipe or a touch. The touchscreen, digital instrument cluster, and steering wheel controls seamlessly integrate media, navigation, communications, cabin controls and vehicle data.
Safety
Model S is designed from the ground up to be the safest car on the road, as proven by a 5-star rating in all categories of the National Highway Traffic Safety Administration (NHTSA) crash test. Much of its safety is owed to the unique electric drivetrain that sits beneath the car's aluminum occupant cell in its own subframe. This unique positioning lowers the car's center of gravity, which improves handling and minimizes rollover risk, and replaces the heavy engine block with impact absorbing boron steel rails.
Side impacts are met by aluminum pillars reinforced with steel rails to reduce intrusion, protecting occupants and the battery pack while improving roof stiffness. In the event of an accident, eight airbags protect front and rear occupants, and the battery system automatically disconnects the main power source. Should the worst happen, there is no safer car to be in than Model S.