The incomparable Tesla Model S, the ground breaking electric vehicle, which has taken the world by storm, has won the top prize at this year's prestigious Good Design Awards.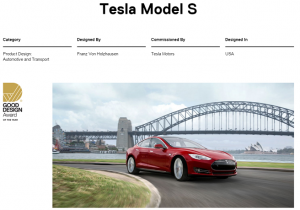 The Tesla Model S, designed by Franz Von Holzhausen and the Tesla Design Team in the USA, was described by award judges as "showcasing the best of human ingenuity, design brilliance and commercial excellence."
The Model S is considered a leader in disruptive design and technology and is the world's fastest four-door vehicle. It's also earned the title of safest vehicle ever tested in the USA. It is changing the way the world thinks about transport.
Read more here...